Greetings and Shalom!
On behalf of myself and my family, Carol Nissenson, Josh Saltzman and Hagar Sadan, and Michael Saltzman, I wish to offer greetings to the members of Sha'are Shalom of Waldorf, Maryland as I begin my association with this Congregation and Temple.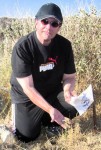 It is my hope that my role as Rabbi of Sha'are Shalom will evolve and grow. It is also my hope that through our shared services, educational programs, Jewish Life Cycle, deep learning, and mutual presence and recognition, that together we will continue to build a strong modern Jewish religious community.
In our prayers we read: Talmidei Chachamim Marbim Shalom BaOlam – "Scholars, increase peace in the world!" Together, through our Avodah, our 'work' here, may we work to improve our lives and the lives of others as we walk together affirming our faith, tradition, and culture.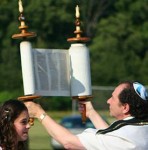 About my family, Carol Nissenson, is an Actor/Director of a professional musical comedy Improvisation troupe called NOWTHIS! She is a member of Actors Equity and AFTRA/SAG. Our sons are Josh and Michael. Josh who is thirty-one years old is married, and recently graduated Brooklyn Law School, Magna Cum Laude, and is now an Associate with Wolf Popper LLP in NYC. He is married to Hagar Sadan who was born in Tel Aviv, Israel. Michael who is twenty-seven is an Actor/Director who is a graduate of the University of Maryland with a major in Theater, recently appeared in 'Spacebar' in the Source Festival, and he directed a full length play, 'Incurable,' in the DC Fringe Festival. He is a founding member of Flying V Theater.
Rabbi Arnold Saltzman one of the best known spiritual leaders of the greater Washington, DC community, serving as Rabbi, Cantor, composer, and recording artist, has been profiled by leading newspapers, magazines and television (NY Times, Washington Post, The New Republic, Opera News, ABC, NBC, PBS, TV-2 of Denmark).
He is known for his spiritual services, teaching, and creative work with choirs, and as composer of symphonies and opera. He began his career as a child singer with the Metropolitan Opera in NYC, RCA Victor (The Sound of Children & Mm, Mm, Good! commercial for Campbell Soup).
Rabbi of Three Congregations
Beginning September 2011 Rabbi Saltzman will be rabbi of Sha'are Shalom in Waldorf, Maryland. Sha'are Shalom which has a new building is affiliated with the Union of Reform Judaism, and has an active membership and growing school. HIs responsibilities will include Shabbat Morning Services, Adult Education, Confirmation, Life Cycle and advising the Educational Director on curriculum.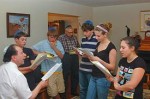 Since 2005 he has served Congregation Beit Chaverim of Calvert County, Maryland as its Rabbi and Director of Religious Education, and he is now in his seventh year as rabbi. Beit Chaverim meets at St. Paul's Episcopal in Prince Frederick, Maryland and its religious school meets at the Calverton School on Sundays.
In 2007 he began his association with Hevrat Shalom Congregation of Gaithersburg and King Farm, Maryland as Rabbi and Educational Director. He is a member of the Calvert County Interfaith Council, the Calvert County International Day of Peace, The Southern Maryland Action Coalition, and serves on the Board of the United Way of Southern Maryland in Prince Frederick. In addition he serves on the Educational Directors Council of the Partnership in Jewish Life in Learning.
He leads services at these congregations and specializes in creating a connection between religious education and Jewish worship services. He is supportive of working with Interfaith couples and families, involving them in Jewish religious services and study. He has been recognized for his work in the community and has created a distinguished guest speaker program at Hevrat Shalom.
In 2010 he was a featured guest artist at the American Guild of Organists Convention where he presented a Jewish Worship Service featuring the music of Salamone Rossi at the 6th and I Historic Synagogue in DC. In addition the Trinity Chamber Orchestra of Maryland performed the Washington, DC premiere of his An American Symphony: Monroe (Gazette News & NW Current News).
Rabbi Saltzman is active in Maryland, DC, and Virginia performing weddings, officiating at Life Cycle events, preparing Bar /Bat Mitzvah students, conducting services, and maintains an active role as spiritual guide throughout the region.
A graduate of Columbia University's Teacher's College, Rabbi Saltzman did additional post graduate and doctoral work at Teachers College. He received a Bachelor of Arts from Brooklyn College of the City University of New York. Upon receiving his Masters Degree from Columbia University he studied at the Jewish Theological Seminary of America – H.L Miller School of the Cantorial Arts, graduating with a Bachelor of Sacred Music and Diploma of Hazzanut. He studied for the Rabbinate at the Academy of Jewish Religion in Riverdale as a full time student for three years, followed by another year with the Rabbinical Seminary International of Rabbi Joseph Gelberman, and received his Smicha (Ordination) in June 2008. During his studies he maintained a residence in NYC and commuted from Washington, DC.
From 1977-1981 he served Congregation Beth El in Plainfield, New Jersey as their Cantor. While there he founded a Youth Choir which participated regularly in services, directed the Congregational Choir which participated in every Friday Evening service, and he participated in all clergy life-cycle responsibilities. In addition he taught and designed the B'nei Mitzvah program. Rabbi Moshe Samber was his colleague during these four years.
From 1981-2005 he served as Cantor of the Adas Israel Congregation, and from 2005-2008 he was Chair of Jewish Music. While Cantor at Adas Israel he was featured on the ABC-TV Network in the United States and Canada in the broadcast of the Hush of Midnight by Charles Davidson. He was featured in 1987 in one of the first international television Broadcasts seen via satellite in the United Sates, Israel, and Europe (Next Year in Jerusalem). He was selected to open the first international cantors convention in Israel by singing in the Knesset. His opera, Touro, premiered at the George Washington University and was critically acclaimed, as were his symphonies, An Israel Symphony, Rescue in Denmark Symphony, and An American Symphony. He is the founder of the Adas Israel Youth Choir which he directed for twenty-five years, including programs for the dedication of the United States Holocaust Memorial Museum and the Inauguration of President William Jefferson Clinton, Rev. Dr. Martin Luther King, Jr. program at Howard University. His work has been recognized nationally and internationally for its creativity and artistry.