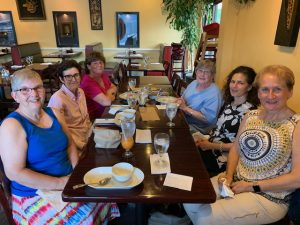 The Women's Group of CSS is simply there to provide friendship and fun. Everyone is included, no signIng up, no extra fees required! You can participate in as many or as few events as you wish. During the 2018-2019 time period, we participated in the following activities:
Attended two plays at the Port Tobacco Playhouse including The Crucible and Steel Magnolias
Watched the documentary RBG, about the great Jewish Supreme Court Justice Ruth Bader Ginsburg (and of course had snacks)
Led a Women's Shabbat for a Friday evening service
And went to dinner at several local establishments throughout the year
I am open to suggestions and to others planning an event. Come join our fun and friendship!
Respectfully,
Bev Hoy, Women's Group Chairperson
bevhoy@outlook.com