AmazonSmile customers can now support Congregation Sha Are Shalom in the Amazon shopping app on iOS and Android mobile phones! Simply follow these instructions to turn on AmazonSmile and start generating donations.
Open the Amazon Shopping app on your device
Go into the main menu of the Amazon Shopping app and tap into 'Settings'
Tap 'AmazonSmile' and follow the on-screen instructions to complete the process
If you do not have the latest version of the Amazon Shopping app, update your app. Click here for instructions.
---
Here is a step-by-step walk through on how to get your amazon smile set up with Congregation Shaare Shalom.
Step 1. Go to the Amazon Smile page on https://smile.amazon.com/. You must be logged into your amazon account. If you are on the normal amazon.com website you will not able to see anything amazon smile related, you must be on smile.amazon.com.
Or you can just click this link to go straight to the amazon smile impact page.


Step 2. In the top right you will see 'Your Current Charity' listed and a button beneath that says 'Change Charity'. Select 'Change Charity'


Step 3. A new screen will appear with suggested charities by amazon. In order to find Congregation Shaare Shalom you must search for it. Find the search bar beneth 'Or pick your own charitable organization' and type 'Congregation Sha are Shalom'. It is important that you put the space between Sha and are because that is how the name is entered in amazon and you will not find it if you search for it as a full name. Once you enter the name in the search bar select the 'Search' button found to the right.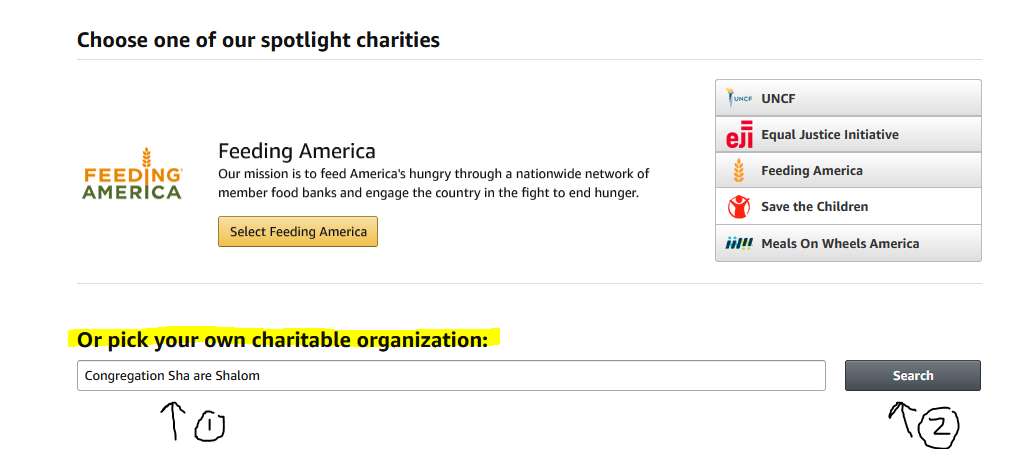 Step 4. There are two Congregation Sha Are Shalom so make sure to select the one with the location of 'Waldorf MD'.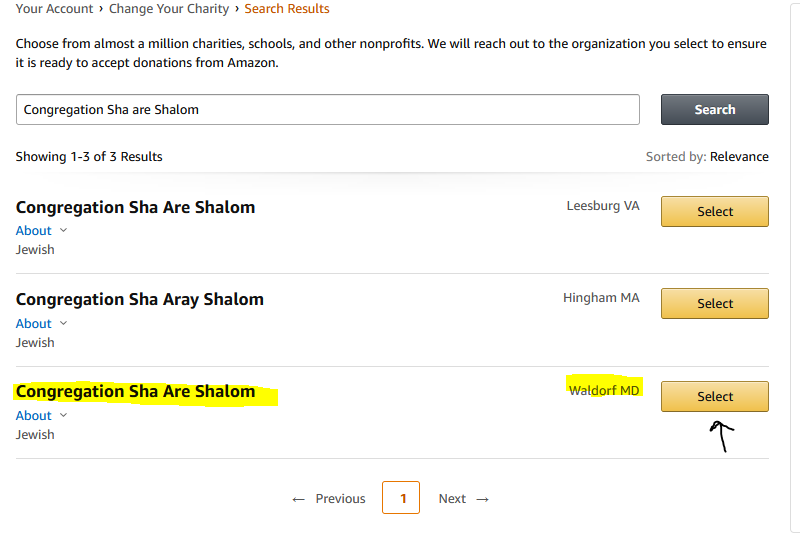 Step 5. You will know that it is successfully when it says you have changed your charity to Congregration Sha Are Shalom.


Remember, you must purchase through smile.amazon.com in order for the donation to count. If you order from normal amazon.com the donation will not go through. Thank you so much and we look forward to receiving your donations through AmazonSmile!