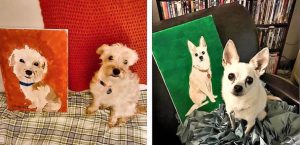 Our pets are part of our families – they deserve a hand-painted portrait!  Join us on Sun, Mar. 18 from 2 to 5 pm. 
Come on out and paint your pet while supporting 301 Derby Dames Roller Derby Team, a nonprofit organization in La Plata!  This event is BYOB and light snacks will be provided. 
The picture submission deadline is Tue, Mar. 6.  Register on Eventbrite.com here: 
https://tinyurl.com/pet-painting-2018
After registering, find your favorite picture of your pet, any pet – horse, dog, cat, bird, turtle, even the family fish!  Headshots of your pet are typically the easiest and have the best result.  Don't worry about the background in your photo, you can add any background you want when we paint.  We will only sketch the pet.
Then email that photo along with your full name and a good contact phone number.  (Do this for each person who will be there if paying for friends.)  Put the date of the event in the subject line of the email.  (One pet per canvas as 2 pets can take too long to paint.)  After you do those things you are registered and your canvas will be ready and waiting when you arrive!